We have our newly expanded DT over at
Craft Your Days Away
and it is the first time to see some fab creations from our new DT ladies. Our challenge for the next two weeks at CYDA has been set by Sarah and she has chosen for you:
FATHER'S DAY (or a card for a man)
So, it is the perfect excuse to get your card made ready for Father's Day in the UK on 19th June 2011. For those of you who are not celebrating it yet, you can make a card for a man too.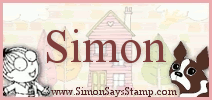 We have our regular sponsor, Simon Says Stamp, who are joining us again for this challenge and they are offering a $10 voucher to one lucky winner. We are also on the look out for a new guest designer to join s for challenge 23 and Sarah will be picking her Top 3.
Now, onto my card ..... its an unusual choice, I do realise that but I have made it for a Dad who is Harry Potter mad! He's not into football, or fishing, or golf so "normal" man images wouldn't really fit the bill. When I saw this HP style image from
Bugaboo
(called The Chosen One) I knew it would be perfect for him! I have coloured the image with pro markers and the paper is a free download from
Summertime Designs
. I found the spider image on Flikr and it was free as long as it was for personal use only. I added the googly eyes and have dangled him over the card with a thin ribbon so that he moves about.
I am going to enter this card into the following challenges:
Thanks for visiting today,
Amanda